Senior Portfolio Insights Strategist
500 Global is a venture capital firm with $2.7B in assets under management that invests in founders building fast-growing technology companies. We focus on markets where technology, innovation, and capital can unlock long-term value and drive economic growth. We work closely with key stakeholders and advise governments and corporations on how best to support entrepreneurial ecosystems so startups can thrive. 500 Global has backed over 5,000 founders representing more than 2,700 companies operating in 81 countries. We have invested in 49 companies valued at over $1 billion and 150+ companies valued at over $100 million (including private, public, and exited companies). Our 180+ team members are located in 27 countries and bring experience as entrepreneurs, investors, and operators from some of the world's leading technology companies.
What You Will Do
This role leads the portfolio analysis and insights functions for our firm with the intention of growing value for companies in the 500 Global portfolio. Collaborate closely with the portfolio value, product, data, and global investment teams to understand the organization's investment strategies and objectives. Provide insights and recommendations to develop a clear picture of the portfolio and inform decision-making to drive portfolio performance.
Essential Functions:

Conducts in-depth analysis of portfolio updates and performance by mapping and analyzing data and context owned by different teams.
Leads the development and maintenance of portfolio reporting and visualization tools with the product team.
Work closely with the product team to ensure the adoption of new products and help scale the impact of Portfolio Value by adopting software alternatives to activities that don't scale
Develop tools to help others see quickly what is happening in the portfolio
Monitors and analyzes both market and economic trends to identify potential risks and opportunities for the portfolio in key verticals.
Contribute to the development and implementation of new investment strategies and processes with investors
Contributes new solutions to creating world-class portfolio value at scale.
Provide timely and relevant help to founders and grow our NPS score and make sure that founders are heard.
Create processes that encourage the adoption of these new solutions in the organization.
Serves as a thought partner to the leadership team of Portfolio Value and regional investment funds, building trust and establishing a regular cadence of communication and cooperation.
Communicates findings and recommendations to senior leadership and other key stakeholders through presentations, reports, and other mediums
Collaborates with the investment teams and data team to understand the firm's investment strategies and objectives and provide insights and recommendations to inform decision-making
Minimum Qualifications:
Bachelor's degree in a related field.
8+ years of experience in portfolio analysis and/or investment or technology research.
Strong analytical and problem-solving skills.
Excellent communication and presentation skills.
Proficiency with analytical and visualization software (e.g. Excel, Tableau, Airtable)
Experience with CRM (e.g. Salesforce)
Preferred Qualifications:
Experience working with large data sets and using programming languages (e.g. Python, R) is a plus
CFA or other relevant professional designation.
Work experience at a startup or technology company
Knowledge of venture capital and startup finance
Pay Range Details
The pay range(s) below are provided in compliance with state specific laws. Exact compensation may vary based on skills, experience, and location.
New York: $132,000 - $142,000 annually
Benefits
Health Care Plan (Medical, Dental & Vision)
Retirement Plan (401k, IRA)
Life Insurance (Basic, Voluntary & AD&D)
Paid Time Off (Vacation, Sick & Public Holidays) Family Leave (Maternity, Paternity)
Short Term & Long Term Disability
Work From Home
Apply
Your application has been successfully submitted.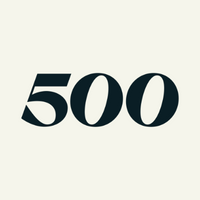 500 Global is a venture capital firm with more than $2.7 billion¹ in assets under management that invests early in founders building fast-growing tech...