Social Media Marketer
500 Global is a venture capital firm with $2.7B in assets under management that invests in founders building fast-growing technology companies. We focus on markets where technology, innovation, and capital can unlock long-term value and drive economic growth. We work closely with key stakeholders and advise governments and corporations on how best to support entrepreneurial ecosystems so startups can thrive. 500 Global has backed over 5,000 founders representing more than 2,700 companies operating in 81 countries. We have invested in 49 companies valued at over $1 billion and 150+ companies valued at over $100 million (including private, public, and exited companies). Our 180+ team members are located in 27 countries and bring experience as entrepreneurs, investors, and operators from some of the world's leading technology companies. https://500.co/
The ideal person for this role would be someone who is passionate about kicking off their creative career, enthusiastic about building their skillset, and has a critical eye for detail as a creator and a storyteller, like to learn about communities, people and tell their stories. Working closely with the MENA team and global marketing team, this varied and fast-paced role will see you developing your creative, communication, and time-management skills as you work through a variety of design collateral.
About you:
A keen eye for detail, you'll be able to nail down what works and what doesn't within any designed collateral.
A basic understanding of good design principles, you'll be able to understand our brand story and guidelines and implement them in an effective manner.
A proactive and effective communicator, reaching out to leaders and peers whenever necessary.
A fast learner, you'll be able to pick up on what needs to be done, think fast on your feet, and deliver quick resolutions.
Self driven and a quick learner, you'll be able to work independently on multiple tasks at any given time.
General time management and organizational skills.
What you will do:
Work with our internal departments to execute design briefs such as event collateral, marketing material, social media campaigns, etc.
Support the Program team and the Marketing team in expanding the 500 asset library and brainstorming concepts for upcoming projects/campaigns
Liaise with external vendors and agencies to ensure accurate use of our logo and brand guidelines.
Produce audio, video, and text content that inspires entrepreneurs, across a wide variety of digital platforms.
Create, manage and post social media content relating to the teams events and activities
Analyze, learn and report on metrics related to the impact of this content strategy.
Experience generating high-impact content.
Amazing storytelling and communication skills.
Requirements
Education:
Bachelor's degree in Marketing, Design or similar qualification.
Experience:
1+ years of work experience as a content producer is mandatory.
Proficient skills in design tools: Canva, Illustrator, Photoshop, InDesign, Figma, adobe premiere and after effect etc.
Experience with designing on Google Slides (presentations) and Google Sheets (dashboards)
Understanding of basic Wordpress CMS
Shoots and edits video.
Preferred Qualifications:
Prior experience with video editing, social media management of apps such as FaceBook, LinkedIn, Twitter are strongly preferred.
Physical Requirements:
Location: Must reside in Riyadh, KSA
Application documents:
Your resume
Your portfolio showcasing your best work
Any other links or examples of your work that you think may assist us in considering your application. We also accept cover letters.
Cover Letter:
Tell us what you love about creating content.
Tell us the unique things you can bring to the table to help us have a strong content strategy.
Share with us one success story while creating content that you feel proud of.
Apply
Your application has been successfully submitted.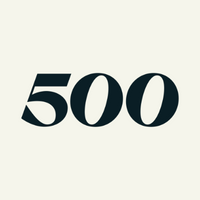 500 Global is a venture capital firm with more than $2.7 billion¹ in assets under management that invests early in founders building fast-growing tech...