Executive/Personal Assistant
500 Global is a venture capital firm with more than USD $2.7 billion in assets under management that invests in founders building fast-growing technology companies. We invest early, and have follow-on and growth stage investing funds as well. We focus on markets where technology, innovation, and capital can unlock long-term value and drive economic growth. We invest far and wide, across sectors and geographies. Our portfolio includes 51 companies valued at USD $1B+ and 180 companies valued at more than USD $100 million.
500 Southeast Asia is an early investor in Grab, Bukalapak, Carousell, Carsome, Prenetics and Finaccel, with 15 more of our portfolio companies worth in excess of USD $100 million each. We have made investments in 250 companies, which have gone on to raise a total of USD $20 billion. We are at an inflection point of growth, where our fund sizes, vehicles, strategies, are expanding in line with our investors interests, and the market opportunities. Hence, we are growing our team to serve even more founders and be even more impactful to entrepreneurship and the region.
What You Will Be Doing:
Provide efficient day-to-day executive assistance to the Managing Partner (including email inbox management, research, and other ad hoc tasks).
Manage complex calendars and coordinate extensive and complicated global/local travel & logistics
Manage a significant number of personal errands for the Managing Partner, including supervision of properties, purchasing and other ad hoc errands and duties
Arrange meetings and prepare business documents/presentation slides.
Attend meetings with the Managing Partner for note-taking, photography, other tasks when required.
Act as the point of contact among executives, employees, vendors and other external stakeholders.
Create a welcoming and inclusive environment for teammates, guests, stakeholders and anyone who interacts with the company within the office and virtually.
Manage office administration, including office expenses and office supply inventory.
Organize staff and office events, maintain overall staff morale and positive work environment.
Assist with team and office responsibilities (including tech subscriptions, asset management and payments) and coordination of events and off-sites.
Project management, task tracking, and figuring out strategies to optimize the productivity as well as the rest of the Managing Partner.
Maintain a proper filing system including storage of highly confidential documents.
Requirements
Previous work experience as an Executive Assistant, Personal assistant or similar role
Good organizational and time management skills
Discretion and confidentiality
Ability to multitask while keeping to timelines and maintaining a high quality of work
Meticulous and proven attention to small details
Tech-savvy; fluent in using software, apps, hardware, gadgets, finding answers on the internet, very excited about new technology and knows how to use it
Positive attitude and cheerful disposition
Top notch spoken English and comprehension
Proficiency in spoken and written English
Proficiency in Google Docs, Google Sheets, Google Slides
3-5 years of equivalent work experience
Benefits
What you will get:
Colleagues who are professional, but also interact and care about you personally.
Medical & Wellness allowances
Eligibility to participate in medical insurance plans
Annual leave
Travel opportunities
Apply
Your application has been successfully submitted.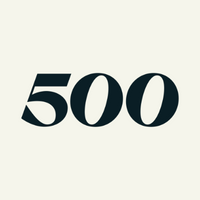 500 Global is a venture capital firm with more than $2.7 billion¹ in assets under management that invests early in founders building fast-growing tech...