Reporting Specialist
We uplift people and economies around the world through entrepreneurship.
Who We Are
500 Global is a venture capital firm with $2.7B in assets under management that invests in founders building fast-growing technology companies. We focus on markets where technology, innovation, and capital can unlock long-term value and drive economic growth. We work closely with key stakeholders and advise governments and corporations on how best to support entrepreneurial ecosystems so startups can thrive. 500 Global has backed over 5,000 founders representing more than 2,700 companies operating in 81 countries. We have invested in 49 companies valued at over $1 billion and 150+ companies valued at over $100 million (including private, public, and exited companies). Our 180+ team members are located in 27 countries and bring experience as entrepreneurs, investors, and operators from some of the world's leading technology companies.
Who You Are
You are a data and reporting guru! You love working with numbers and spreadsheets, and you understand the ins and outs of fund accounting. You are also driven, smart, and humble and are excited at the prospect of joining our #500STRONG family and helping us execute our vision to build thriving tech ecosystems around the world - and especially in MENA!
What You Will Do
The Reporting Specialist will be responsible for analyzing data and compiling all required reports on the performance of our fund and our portfolio companies. The Reporting Specialist will work closely together with both the regional Investment team and the global Fund Accounting team to ensure that the data collected is comprehensive and accurate, and that all internal and external reports are completed on time and to the highest standard.
This role is accepting candidates based in KSA, UAE, Bahrain, Jordan, or Egypt. This position is a full-time role with a 4-month probationary period. The Reporting Specialist may be asked to travel for critical periods of time in the program or reporting cycle.
Essential Functions:
Key Responsibilities Include (but are not limited to):
Assist the Investment team to drive timely and accurate information flow from the portfolio companies to the fund.
Lead on analyzing the data and processing reports, including quarterly and annual reports for our LPs, auditors, internal HQ, and other stakeholders.
Liaise with the Finance team to assist with fulfillment of fund audit requirements.
Design and implement reporting dashboards, templates, and the associated data pipeline to deliver insights and enhance the workflows of internal teams.
Advise and monitor data collection to ensure proper data input (identify and recommend new ways to streamline data input).
Work with the Investment & Fund Accounting teams to consistently improve the quality and scope of our reporting process.
Must have:
Bachelor's degree in Business, Finance, or related field
1-2 years of experience in venture capital, investment banking, or accounting
Advanced problem-solving skills and the ability to think strategically, analytically and creatively
Highly organized, shown to meet tight deadlines along with consistent accuracy
Exceptional attention to detail
Proficiency in Excel, Google Docs, MS Office, CRMs, etc
Expert spreadsheet experience (formulas, dashboards, charts, etc)
Excellent written and verbal communication skills in both English and Arabic
Ability to work in a fast paced, rapidly changing environment under pressure
Global and cultural awareness, be excited about working in a diverse environment with different types of people from around the world speaking different languages
Nice to have:
Experience working internationally
Familiarity with cross cultural business
Experience working with Ironclad, Salesforce, or other similar tools and services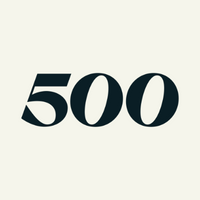 500 Global is a venture capital firm with more than $2.7 billion¹ in assets under management that invests early in founders building fast-growing tech...