Global Manager, Marketing Operations
We uplift people and economies around the world through entrepreneurship.
Who We Are
500 Global is a venture capital firm with $2.7B in assets under management that invests in founders building fast-growing technology companies. We focus on markets where technology, innovation, and capital can unlock long-term value and drive economic growth. We work closely with key stakeholders and advise governments and corporations on how best to support entrepreneurial ecosystems so startups can thrive. 500 Global has backed over 5,000 founders representing more than 2,700 companies operating in 81 countries. We have invested in 49 companies valued at over $1 billion and 150+ companies valued at over $100 million (including private, public, and exited companies). Our 180+ team members are located in 27 countries and bring experience as entrepreneurs, investors, and operators from some of the world's leading technology companies.
What You Will Do
Leverages an eye for detail and exceptional experience to elevate, optimize and operationalize global marketing efforts across all 500 Global regions and functions. Provides insights, recommendations, and tools that most effectively support all brand and marketing execution.
Essential Functions:
Project manage best-in-class marketing executions across all touch points.
Drive large-scale campaign activations, ensuring workbacks are appropriately established and adhered to.
Lead and manage global, cross functional stakeholder meetings.
Establish expertise in integrated marketing to more effectively drive change-management. Provide thought leadership to influence decision making among marketers.
Identify recommendations for greater efficiencies among broader marketing team and work to implement as needed.
Develop consistent data reporting cadence and messaging.
Liaise with local teams to enhance and optimize operations.
Serve as the internal primary point of contact for ongoing marketing initiatives and creative needs.
Cultivate and manage external agency relationships.
Other duties as assigned.
Minimum Qualifications:
Education: Four year college degree in Marketing, Communications or a related field.
Experience: Four or more years managing integrated marketing projects, campaigns, and/or marketing efforts; two or more years leading stakeholder management; two or more years driving growth marketing.
Preferred Qualifications:
Education: Master's in Communications or Marketing; MBA.
Experience: Excellent project management skills; Outstanding track record of driving and implementing change; Strong people management capabilities; Incredible attention to detail; Innovative thinker and attuned to evolving marketing best-practices.
Pay Range Details
The pay range(s) below are provided in compliance with state specific laws. Exact compensation may vary based on skills, experience, and location.
New York: $80,000 - $100,000
Benefits
Health Care Plan (Medical, Dental & Vision)
Retirement Plan (401k, IRA)
Life Insurance (Basic, Voluntary & AD&D)
Paid Time Off (Vacation, Sick & Public Holidays) Family Leave (Maternity, Paternity)
Short Term & Long Term Disability
Work From Home
Apply
Your application has been successfully submitted.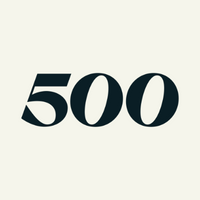 500 Global is a venture capital firm with more than $2.7 billion¹ in assets under management that invests early in founders building fast-growing tech...