Associate
We uplift people and economies around the world through entrepreneurship.
Who We Are
500 Global is a venture capital firm with $2.7B in assets under management that invests in founders building fast-growing technology companies. We focus on markets where technology, innovation, and capital can unlock long-term value and drive economic growth. We work closely with key stakeholders and advise governments and corporations on how best to support entrepreneurial ecosystems so startups can thrive. 500 Global has backed over 5,000 founders representing more than 2,700 companies operating in 81 countries. We have invested in 49 companies valued at over $1 billion and 150+ companies valued at over $100 million (including private, public, and exited companies). Our 180+ team members are located in 27 countries and bring experience as entrepreneurs, investors, and operators from some of the world's leading technology companies.
What You Will Do
As an Associate, you'll play a pivotal role in the investment process in various aspects of deal sourcing, evaluation, and management of early-stage companies. You will contribute to the fund's success by assisting in the execution of investment strategies and ensuring effective portfolio management.
Job Responsibilities:
Conduct research on sectors and markets to identify key trends and potential investments and to assist in adding value to portfolio companies.
Support deals' scouting through events (3rd party or organizing our own), proactive research, and ongoing networking
Evaluate startups by performing qualitative and quantitative analysis with a thorough due diligence process, deal structuring, and support the legal documentation of investments.
Collaborate closely with founders of portfolio companies, providing strategic guidance, mentorship, and support to help them achieve their growth and business objectives.
Ongoing support and internal reporting of portfolio companies.
Strengthen market knowledge through attending relevant market events, staying up-to-date on industry news and trends, and networking with key market stakeholders.
Work closely with the Programs and HQ teams in initiatives that contribute directly or indirectly to fund performance
Support brand-building and marketing initiatives 
Required Qualifications:
Bachelor's Degree and a minimum of 4 years of experience in venture capital, private equity, investment banking, or management consulting with a strong track record of contributions to successful investments.
Demonstrated experience in the full deal cycle from sourcing follow-on rounds (to exit a plus)
Proven ability to identify emerging trends, market opportunities, and disruptive technologies within the chosen markets. Prior entrepreneurial experience a plus
Strong industry connections and a well-established network of entrepreneurs, startups, co-investors, and strategic partners.
Strong quant background, with the ability to build and understand financial models.  
Excellent verbal and written communication skills, with the ability to articulate investment theses and recommendations to both internal teams and external stakeholders.
Experience in international markets is a plus
500 Global does not discriminate on the basis of race, sex, color, religion, age, national origin, marital status, disability, veteran status, genetic information, sexual orientation, gender identity, or any other reason prohibited by law in provision of employment opportunities and benefits.
500 Global collects and processes personal data in accordance with applicable data protection laws. If you are a European Job Applicant see the privacy notice for further details. If you are a California Job Applicant see the privacy notice for further details.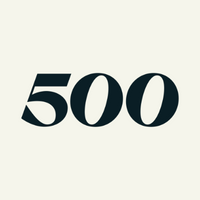 500 Global is a venture capital firm with more than $2.7 billion¹ in assets under management that invests early in founders building fast-growing tech...